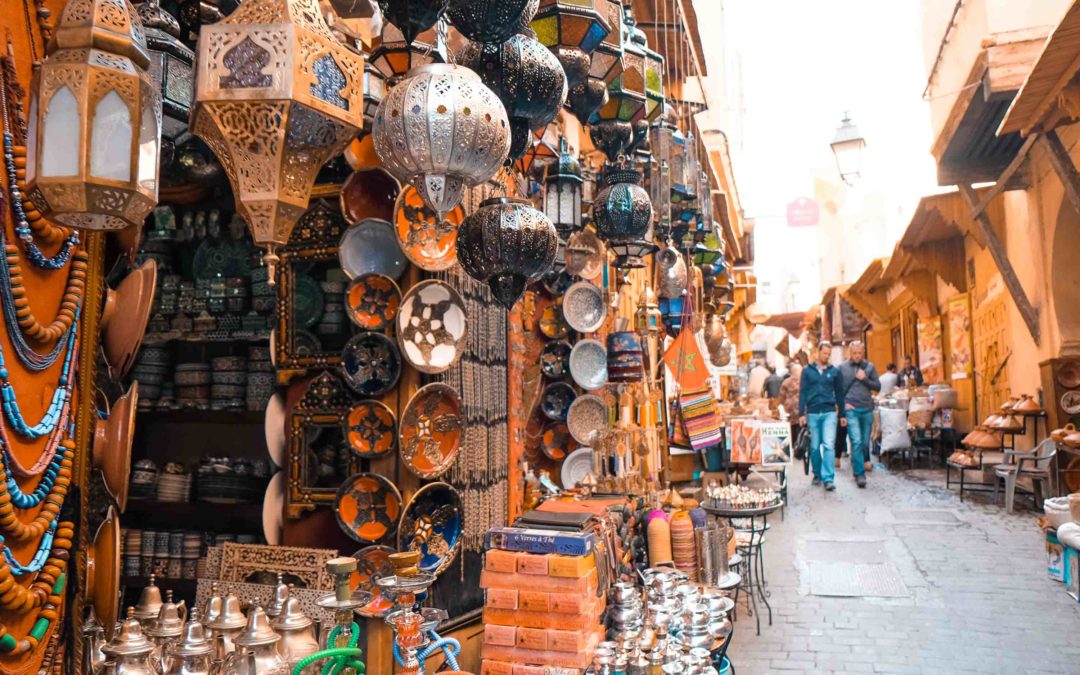 When you're looking for a tour that you might want to enjoy in Morocco, sometimes the diversity of options might leave you confused. There are many tours that you can choose from. Although the tours share a lot of similarities in terms of what they visit sometimes, other times the experiences are radically different from one another. Morocco is a very diverse country in terms of everything that ranges from culture to nature. Therefore, to help you make the choice a little bit easier, we are going to chose only one type of tours, that start from the most ancient city in the Moroccan Kingdom: Fez, to the wonders of the desert dunes in a town called Merzouga.
Fez to Merzouga tours aren't only about the starting point and the ending point, which are respectively Fez and Merzouga, the journey in between these two is all the way exciting from starting to end. The highlights which are going to be discussed in detail include: the city of Meknes, the Atlas Mountains, all the interesting towns and villages, and more.
Keep reading if you want to know more about Fez to Merzouga tours.
Tours from Fes
Tours and trips that starts from fes to the desert and other several cities.
Fez (Fez to Merzouga desert tours)
The journey starts from Fez. However, the tour doesn't leave the ancient city without exploring it's landmarks. As we already know Fez is the oldest Moroccan city. Therefore, it's a record of all the cultures and lifestyles that used to settle there.
The old Medina with all its walls and gates give this impression of safety. Fez has these walls to make it a safe haven for the king and his subjects. The old castles and buildings with their mystical Islamic architecture make the visitors feel as if they traveled through space and time to the middle ages. The golden age of Fez. During that period Fez was the first city in the world to establish a university, the thing that gives Fez its reputation as a city of science, knowledge and wisdom. The first university ever is Al Quarawin University, which was established by Fatima Al Fihriya. Not to mention the all the other monuments that this city has, and the modern lifestyle that this city has other than the more traditional.
Volubilis and Meknes (Fez to Merzouga desert tours)
Fez to Merzouga tours can't miss the opportunity to visit this ancient Roman city called Volubilis. The Ruins of this old Roman city are there as a proof that Morocco was once, before it was an independent kingdom, a part of the Great Roman Empire. Thanks to Volubilis you'll get the chance  to explore some authentic Roman architecture.
Not so far away from Volubilis is situated one of the most important cities in the history of Morocco, although nowadays it's not as popular as Marrakech or Casablanca, still it's one of the most beautiful cities of Morocco. The city we're talking about is Meknes. The dynasty of the Sultan Moulay Ismail considered this city their capitol. They built all these monuments that keep a rich record from the past. The wall of Moulay Ismail is one huge proof of the power that this city used to have. Not to mention the majestic gates and Lahdim Square in front of them. This city is also host to an old prison that is like a labyrinth. It could be a good case subject of some spooky pictures.
The old medina of Meknes is also a must-visit, there are some old, breathtaking Riads, that must be explored.
Aside from the old aspects of Meknes, it's also a modern city with fancy restaurant, bars and nightclubs that are always vibrating with fun. And the good thing about Meknes is that it's not as expensive as Marrakech or Casablanca for example.
suggested tour:
Discover Sahara Desert
You can discover the desert of merzouga with our tours that start from a several cities
Middle Atlas Mountains, Azrou, Ifran…
Some tours skip Meknes and go directly to the Atlas Mountains. The first stop then is a town that is considered to be similar to the cities of Switzerland. This town is called Ifran.
Ifran is at its best at winter with the snow. One highlight is the giant statue of a big lion. Photography is necessary at this point.
Next there is Azrou, the city that has the fastest access to cedar forests. These forests are similar to what you might find in a fairy tale movie. And at the right times of the day you can spot monkeys all over. One other Meddle Atlas stop is Midelt, which is considered the capitol of apples in Morocco. This city is also famous for its mines of beautiful stones, such as Vanadinite.
Finally there are these two stops which are the town Rich and Imilchil. Imilchil is a town that is known for its two lakes: Isli( groom) and Tislit (bride). The story is that these two lakes are filled by the tears of two lovers who were denied each other by their circumstances, so they kept crying separately until they filled two lakes
Ziz valley and Toudra Gorges (Fez to Merzouga desert tours)
Ziz valley is a wonderful example of how much the landscapes of Morocco are interesting. It's like the perfect combination of valley, river and palm trees -which are a good symbol of this Moroccan region.
Another beautiful landscape is that, that you can find in Toudra Gorges. The narrow canyons, the heights, the water stream with the small fish and the mountain climbers, all of these elements are combined to give this place its wonderful atmosphere.
Merzouga and Erg Chebbi (Fez to Merzouga desert tours)
It wouldn't be called a desert tour unless the tour visits Merzouga. This small town has become synonymous with with the desert. You can just look for Moroccan Desert on the internet and almost all the pictures are taken from Merzouga or the area around this twon. Although it's not a big city such as Fez, which could be a disappointment for some. However, others will really appreciate the simplicity. There are of course stores, restaurants, fancy hotels and bars in Merzouga. So, no worries about being bored.
But of course the most important part isn't the urban areas as much as the raw desert natural landscapes and how the people who inhabit this nature live their lives.
Some of the most obvious associations that we associate with Erg Chebbi Dunes are: golden sands, camels clear desert sky, beautiful sunsets and desert animals. However, these are only products of nature. Some human, and cultural aspects are for example the Berber tents where there are all sorts of fun activities, like eating desert food, burying the body under the sand, desert drum music, that can make people reach higher states of awareness… these and more activities.
The end of the journey will be in Fez where it started.
Arfoud, Errissani and other towns (Fez to Merzouga desert tours).
The 3 days private tour will take its visitors to many towns and villages. The most famous ones are Arefoud, where you can find fossils and even buy them. The other is Errissani which is famous for the high quality dates.
Merzouga and the desert

(Fez to Merzouga desert tours)

.
Morocco desert tour has to go to Merzouga otherwise it's not a wholesome experience. Merzouga is what you're looking for when you think about camel trekking, watching the desert sunrise, riding desert vehicles, spotting desert animals and so on.
When you get there you'll find camps with all the prestigious things that you can imagine in a desert plus drum musicians whose sole goal is to make your stay in there as enjoyable as possible.
Not to mention the traditional food and the parties that you can find in the fancy hotels of  Merzouga.
suggested tour:
Discover The Valleys of morocco
With Prime morocco tours,You can discover the Valleys and the panoramic views of gorges
The tour from Fez to Merzouga is without no doubts one of the best Moroccan experiences, not that there are any bad experiences or tours when it comes to Morocco. Therefore, one might consider this one tour as a first experience of Morocco. That's why it's recommended for a first time visitor.
Tell us in the comments below about your opinions and thoughts.
If you want any help concerning Morocco private tours, please contact our services.