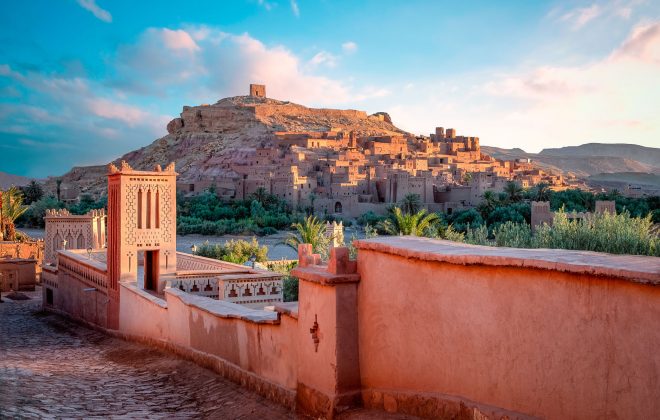 Morocco is a country that is known for the many exciting experiences that could have there as a tourist. The range of experiences that this country could offer to the visitors is very wide. Imagine being in a desert today riding a camel, then the next day you are snowboarding down a high mountain. These are only two examples to demonstrate what we mean.
In Morocco you can find old cities with very ancient architecture, beautiful beaches, cool modern cities high mountains, desert dunes and many other examples of the diversity of experiences that you can have in Morocco. Not to mention the delicious traditional Moroccan cuisine and all the kind of souvenirs that you can get there that are only found in Morocco, and express Moroccan culture.
As Moroccans we are very aware of what kind of treasure our country has, that's why you can find many Moroccan agencies that organize Morocco private tours for the people who are interested in visiting many places in a single trip; Prime Morocco Tours Promise you the best itineraries and services you wouldn't find elsewhere. The Morocco tours we have depend on the cities and regions you want to visit, the places you want to discover; we try to offer in each itinerary many experiences and sights.
One could of course travel to Morocco and use public transportation or rent a car to travel on their own, which is a good experience on its own. However, for people who never visited this country or you're just interested in visiting this this country with a private tour that is organized specifically for the tourists to have a wholesome experience, a Morocco private tour is really a good choice.
There are however, many options that you can choose from, and all of them are special in their own way. For example there some tours that only take a period of 3 days where you visit two imperial cities and all the towns and villages between them.
Therefore, if you are thinking of visiting Morocco, it might be a very good idea to decide first what you're going to visit, and see if there's a private tour that matches your plan. You can do that by contacting us here, we will help you plan your next trip, answer your questions and provide you with all the information and advices you need.
In order to help you we dedicate this article for the purpose of giving you an idea about the top 5 Morocco private tours that the tourists really seem to enjoy the most.
Tours from Fes
Tours and trips that starts from fes to the desert and several cities
Number 5: Fez to Marrakech, in 5 days.
The first tour we are going to talk about in our list is Fez to Marrakech in a period of 6 days.
This trip will start from the very ancient city of Fez. This city was the first Moroccan city ever to be established by the first king of Morocco Idriss I. Fez is still preserving old buildings in the old town (Medina) that belongs to the middle ages. Also in the Medina you will get the chance of spending some time in one of the Riads that old Moroccan cities are known for. Other places like Chouara leather tannery, where leather is prepared for commercial and industrial applications in a traditional manner. In Fez there are also many beautiful castles that you will be visiting with the private tour. However, one of the most historically significant places in Fez is Al Karawiyin University, the first university that the world has ever seen. The founder of the first university is a woman called Fatima Al Fihriya.
The private tour goes afterwards to the region of Ifran and Azerou, these two beautiful towns are known for their cedar forests and caves, and also for monkeys in their natural habitat.
The next stop will be at Midelt, usually for having a meal. This town is also known for the production of high quality apples and mineral mines, where you can get some beautiful stones for good prices.
The private tour then continues its way to Marrakech, but before it reaches the Red City, it has to stop in many towns and villages to see what is going on in them. One of these stops is Merzouga where there are desert dunes that the Great Sahara Desert is known for. People bury themselves to the neck in the sand for medical purposes in this town. One other stop is the Toudgha Gorges where you can see the beauty of Moroccan landscapes manifested in a marvelous way. Next stop is Ouarzazat, the Hollywood of Morocco where many blockbuster movies were filmed. The final stop that is significant is the fortified village that the UNESCO considers a world heritage, this village is called Ait Benhaddo.
Then we will finish our private tour in Marrakech. This city is a combination of tradition and modernity. You can spend some time in a traditional Riad, and few minutes later as if you traveled through time you are shopping in a mall or eating at McDonald's.
Suggested tour: 5 DAY TOUR FROM FES TO MARAKECH VIA THE ATLAS & DESERT
Number 4: Tangier to Fez 6 days.
The second Morocco private tour on our list starts from Tangier and stops at Fez.
Right after the group has gathered in Tangier the private tour starts its journey by heading first to Chefchaouen (the Blue Perl of Morocco). The blue town has a special ambience that makes every visitor fall in love. Taking pictures is very necessary at this point.
The next stop is the very old ruins of a Roman city called Volubilis where you can find some old Roman architecture. Then we will go to Meknes the capitol of Morocco during the reign of the Sultan Moulay Ismail. This Sultan built a huge wall all around the city for protection and it's still there now as beautiful as ever with its many gates. Not only that there are many monuments in this city such as the huge gate Bab Mansour, and the very big pool of water Sahrij Esswani. The private tour then goes to Fez where you will go on sightseeing trip to all the many important spots in this ancient city. The tour goes after that to the south of Morocco where there's desert, passing by towns like Midelt and Errachidia. The desert stop will be at Merzouga where you can ride on the back of a camel, stay over in a tent and enjoying Gnawa music while looking at the golden dunes.
The trip then returns to Fez, however this time it stops by the beautiful Berber cities Ifran and Azerou.
Suggested tour: 6 DAYS TOUR TANGIER FES
Discover Sahara Desert
You can discover the desert of merzouga with our tours that start from a several cities
Number 3: Marrakech to Merzouga 3 days.
The next tour on our list will start its journey from Marrakech, then it will go to visit the Atlas Mountains through the very beautiful and difficult road Tizi N'Tichka.
Then we will take a break at the Kasbah of Ait Benhaddo.
Afterwards, we will visit many towns and villages for breaks and meals. One of them is Kalaat Magouna, a town that is known for the production of roses and all the products that are derived from roses.
Next stop will be Skoura Amazigh villages that surround the valley of Dades, a very beautiful landscape.
 After that the tour will take us to Toudgha Gorges, where we will spend some time exploring the area. After that we will stop in one town for a meal, before finally going to Merzouga where you will be greeted with mint tea and music. You will have a desert experience with camels and a night in a tent.
Finally the private tour ends by heading back to Marrakech in a different road than the one we came from.
Suggested tour: 3 DAYS SAHARA DESERT TOUR FROM MARRAKECH TO MERZOUGA
Top 2: Tangier to Marrakech 10 days.
Our next trip starts from the amazing city of Tangier. But before we leave tangiers, we will visit some of the landmarks of this city. These include places like the Kasbah of Tnagier and the palace that used to belong to the Sultan ( Dar El Makhzen).
After that we will depart from Tangier to Rabat through the coastal route and passing by some of the most beautiful Moroccan coastal towns.
After we enter Rabat we will stop by some of the beautiful landmarks of this city and have a meal there.
Then we will go to the big city Casablanca where you will vet the chance of visiting the Hassan II Mosque and see its gigantic minaret.
After visiting Casablanca we shall return to Rabat then we will go to Fez to visit all the wonderful medieval buildings that this city has
The next stop will be Volubilis the old Roman ruins. After that Meknes where we will visit some of the most historically important places there. Then the trip will return to Fez for one last time in order to visit everything that is important.
Then the trip goes to the desert passing by the many towns and small cities that we have already mentioned in the other paragraphs.
We will experience all what the desert has to offer, after we will go to Marrakech where we shall stay and enjoy the lifestyle for a while before the 10 days are over.
Suggested tour: 10 DAYS PRIVATE TOUR FROM TANGIER
Top 1: Casablanca grand tour 14 days.
The final Morocco private tour is really recommended for people who never visited Morocco and want to stop by all the exciting cities and regions.
The journey starts by the exploration of Casablanca. Next Rabat where we shall visit Hassan Tower and  the ancient town that is considered a world heritage buy the UNESCO.
The next city is Meknes, then Volubilis.
Fez is after that. We will get a whole day exploring the richness of this city.
Then we will go south passing by the two beautiful towns Ifran and Azerou for a while.
Then after visiting Midelt, we will continue the tour south visiting the many towns, villages and the natural landscapes that are close to them. These include Toudgha Gorges, Dades valley, Merzouga, Ouarzazat, Ait Benhaddo and many others.
The next region is the Souss region of Morocco with a city called Taroudant which is a really important Amazigh city. Then we will stop in the magnificent city Agadir, that is one of the most economically important cities of Morocco.
The trip will go after to Essaouira. The city that has a very rich history and a very rich culture as you can discover from the buildings and the lifestyle of people who live there. Essaouira is also known for surfing.
The last stop of this Morocco private tour is Marrakech, where you can get to explore all what this city has to offer, and perhaps leave Morocco via the international airport in this city.
Suggested Tour: 14 DAYS TOUR CASABLANCA DESERT
Discover The Imperial cities
With Prime morocco tours,You can discover the imperial cities and live some other experiences!
Prime Morocco Tours offers a wide range of Morocco private tours experiences and lifestyles so that everyone is happy and excited. This country is really something if you explore it the right way.
If you have visited Morocco tell us about your experience in the comments below
And if you are interested in exploring this country with us contact us and check our services for more information and details.