Morocco travel guide, Your source to know Morocco  
This Morocco travel guide is meant to help you know more about this country, in case you're interested in paying a visit to this AWESOME place, or just out of curiosity; perhaps you want to include it on your travel list. This travel guide will give to the reader a general idea about Morocco. A a detailed description however, might need a book, or an actual visit, which is highly recommended in this case. But it's safe to say that this is a good starting point.
The theme of Morocco is diversity! It's a country that is essentially diverse in terms of everything that ranges from what is nature related to what is human related. By that we mean history, geography, people and culture.
Morocco recognizes what a treasure it has. That's why both the public sector and the private one focus a lot on enhancing their tourism services and protection. Morocco is a real tourist attraction. No wonder why it hosted 11 million tourists in the year 2011.
Another reason that makes Morocco very appealing to the visitors is that it's very affordable. Someone who has a tight budget won't find a problem in Morocco.
Please enjoy our Morocco travel guide.
Get your itinerary tour with Prime Morocco tours and live an unforgettable travel to Morocco. (Check all our travel tours.
Tours from Fes
Tours and trips that starts from fes to the desert and other several cities.
A brief summary of the Moroccan history
Morocco is very interesting in the human history because the oldest archeological trace of Homo sapiens (humans essentially) has been found in Morocco it dates back more than 300,000 years ago. However, the most notable civilization that set foot in Morocco are the Phoenicians, they used to consider the Moroccan lands, such places like Lexus and Mogador(known today as Essaouira) as trading centers during the sixth century. The Berbers established their first kingdom there called the Berber Kingdom of Mauritania. The Roman empire used to have power over the Moroccan land during the same era. Volubilis is the remains of an ancient roman city  in Morocco that you can visit while you're here. The Islamic era of Morocco started in the seventh century onwards. First established by the Umayad Khalifat, and then as an independent kingdom that was established by the first King Idriss the first who was the founder of the Idrissid dynasty. Throughout the years, many other dynasties have been ruling Morocco, the current one is the Alaouit dynasty. Big cities such as Fez, Marrakech and Rabat all have monuments that represent each of the old ruling dynasties. The modern era starting from the 19th century has shown European interest in Morocco. Spain and France colonized Morocco during this era. Both of them have left a huge influence on the Moroccan culture as we know it now.
Morocco travel guide, your itinerary to know the great Morocco.
The geography of Morocco
First, Morocco is situated in the north western edge of Africa. The Mediterranean sea borders it from the north with Spain being only 14 kilometers from the closest point, Algeria from the east, Mauritania from the south and the Atlantic ocean from the west. The northern part has mountains, coasts and beaches. The western part has fertile lands, the middle parts are home to the Atlas mountains, and as you go south you enter the desert. A single trip from north to south that starts from Fez as an example and finishes in Marrakech will visit mountains, valleys, flatlands, desert and mountains again. Make sure to take with you cloths that match each region's weather.
The Moroccan biological landscape is also very diverse. Each region has its own environmental particularities including all sorts of wild life. A list of these would require an article on its own.
Morocco travel guide with Prime Morocco Tours.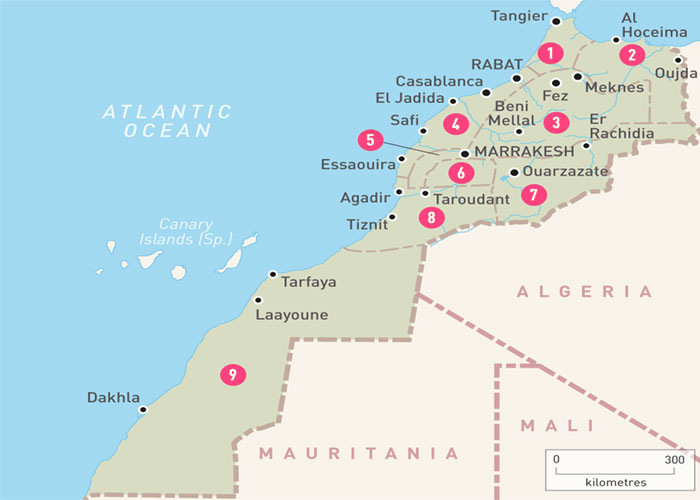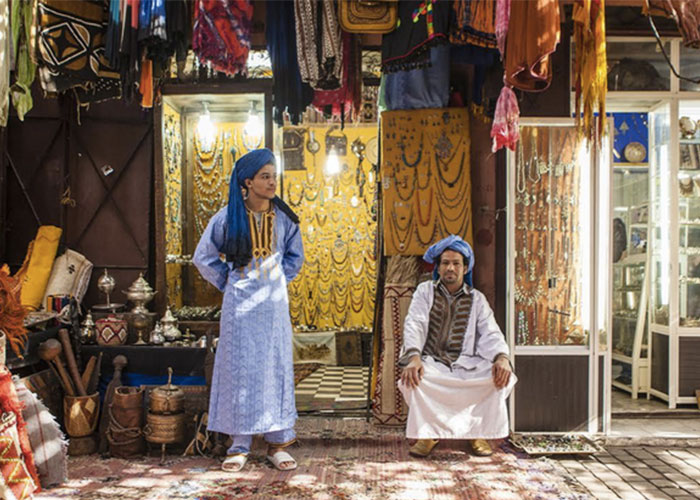 The cultural diversity of Morocco.
Morocco has a wide cultural diversity. As you can deduce from its history, a quick look at the history will tell you that Amazighs, Romans, Arabs and Europeans and many other civilizations have all left their cultural footprints in Morocco. These cultural aspects can take the form of traditions, clothes, food and many others…while you're in Morocco, expect that you'd encounter many culture depending on where you are at a certain time.
Morocco travel guide will allow you to know almost everything about Morocco and all the information you must know while you're there.
The Moroccan people
Moroccans are very interesting folks. Most of them are a mixture of Arabs and Berbers, 99%. The majority are Suni Muslims and a big chunk says they're only Muslim. All of them however are very liberal and are not religious fanatics. The situation in Morocco is generally very liberal. It is safe to say that the impact of such diverse cultural influences have made this country very open-minded.
Know the Moroccan people throughout Morocco travel guide.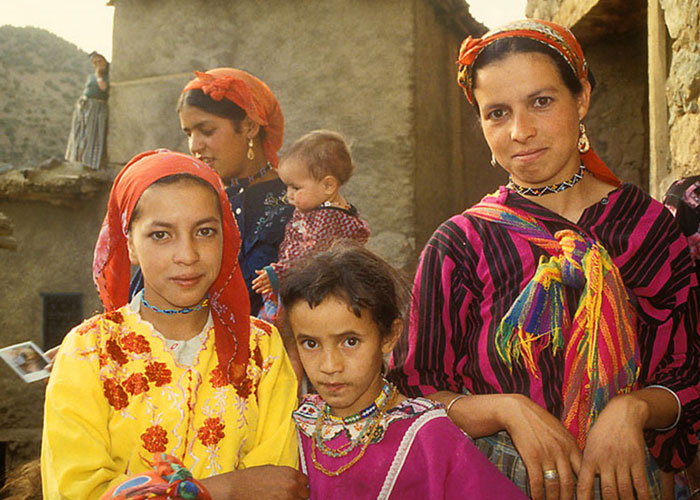 Discover Sahara Desert
You can discover the desert of merzouga with our tours that start from a several cities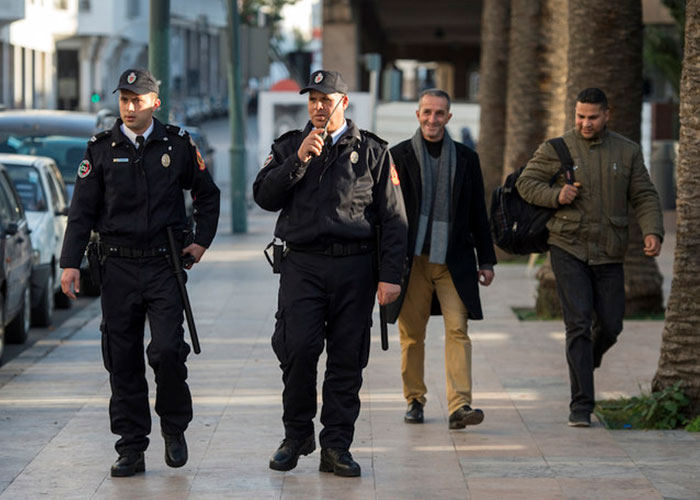 Safety in Morocco
Some few fanatics commit crimes now and then, but that is the case all over the world and statistics show that Morocco is one of the safest places on Earth in terms of terrorism incidents. There is also a significant number of police agents who are only dedicated to keep touristic places very safe. Moroccans are generally very kind and friendly to foreigners.
Did you know that Morocco is safe country before this Morocco travel guide article. 
A travel guide of costs in Morocco
If you're not a heavy spender, a day in Morocco won't cost you more than 50 USD, which is approximately 500 MAD (Dirham). A mid range budget of 1,200 MAD will allow you to spend it on things like eating at good restaurants and taking private tours. However, if you can afford 3,500 MAD or more you will be surprised what you can do.
Make sure to take change with you everywhere you go, you will need that a lot.
Morocco travel guide is helpful before each new travel.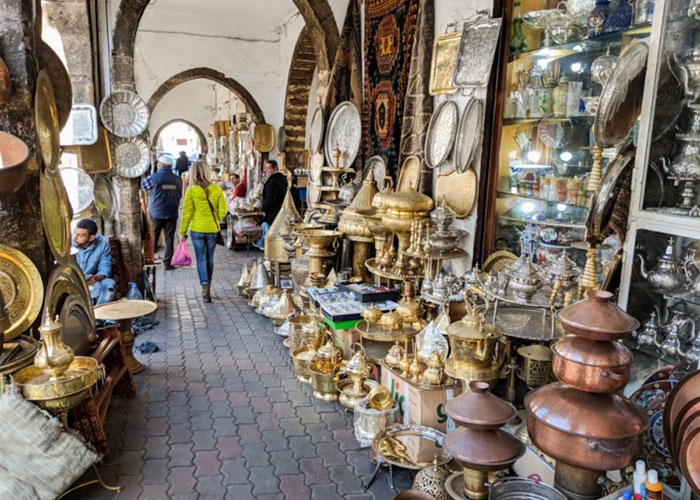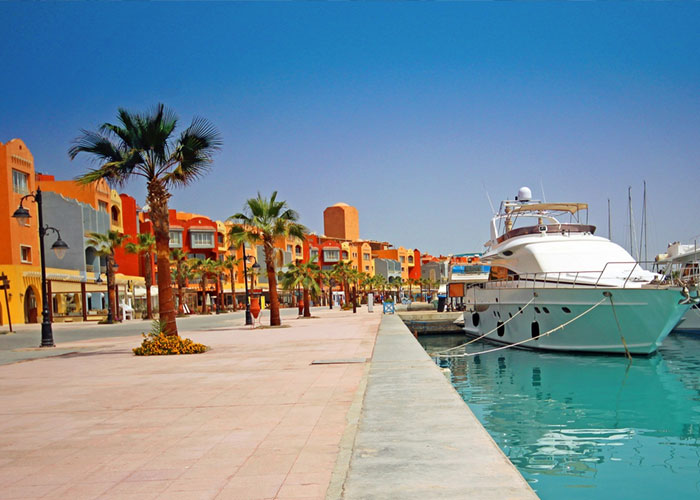 The best time to visit Morocco
The best time to visit Morocco arguably is from, either from April to May or from September to November. The weather is really nice, which is good for activities like mountain hiking.
Winter time might not be the best time to visit Morocco. However, if you're a fan of snowboarding or skiing that's a good time to visit Morocco.
The summers tend to be really hot in the middle of the country, cities like Fez, Meknes and Marrakech are really hot. However it might be a perfect time to visit the coasts of the Moroccan North, or cities like Casablanca, Essaouira and Agadir.
Follow our Morocco travel guide to know Morocco before you come there. 
Discover The Valleys of morocco
With Prime morocco tours,You can discover the Valleys and the panoramic views of gorges
Morocco travel guide to the must-visits of Morocco
Starting from the north you must visit Tangier, this city is considered an international city for many reasons, one is being the portal of Africa to Europe and vise versa. Chefchaouen is also a place in the Moroccan North that you must not miss. It's a whole city painted in blue.
Going south there is Fez, the oldest Moroccan capital. Fez is a city that has a reputation of science and knowledge because it's the home of the oldest university in history. Near fez there are the remains of an ancient Roman city. it's called Volubilis. Not far away from Volubilis there's another ancient Moroccan city, which was also a capital once. It's Meknes, and it has some cool monuments. This region has also some cool towns near the Atlas Mountains such as Azerou and Ifran, where there are cedar forests.
Going west there's Casablanca a city that needs no introduction. It's the biggest Moroccan a city and the most important economically. One could say Casablanca is the heart of Morocco.


And there's the capital Rabat, A truly beautiful and sophisticated city. There are here some very beautiful historical locations.
Going south there's Merzouga, A true desert city. Imagine dunes, camels, tents, clear night sky, desert traditional drum music and a comfy bed along with bars and parties all over. This is the kind of fun you can have in Merzouga.
Farther south you can find the biggest film studio in the world. Ouarzazat and Ait Benhaddo are places you can recognize from Game of Thrones and movies such as Gladiator, KIngdom of Heaven, Lawrence of Arabia…
After visiting such places Marrakech is a good stop. In fact most of the tourists who visit Morocco visit Marrakech. It's simply the best stop in Morocco according to the majority of visitors.
Essaouira is also a must-visit, especially if you're a person who has a strong passion towards arts.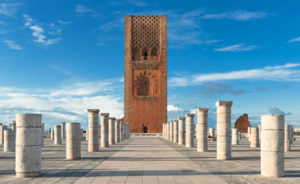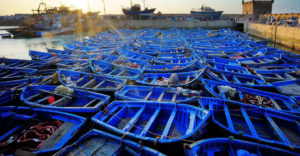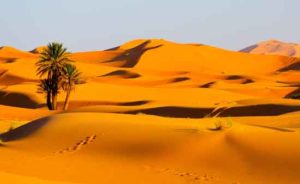 we would very much suggest that you travel with a private tour agency. These agencies organize tours that visit a selection of the best stops including the ones we mentioned here and many others like some cool waterfalls, valleys and gorges.
We hope that Morocco travel guide was useful and informing. Leave us a comment bellow. We would like to know your opinions.
And if you need any help, please feel free to contact us.