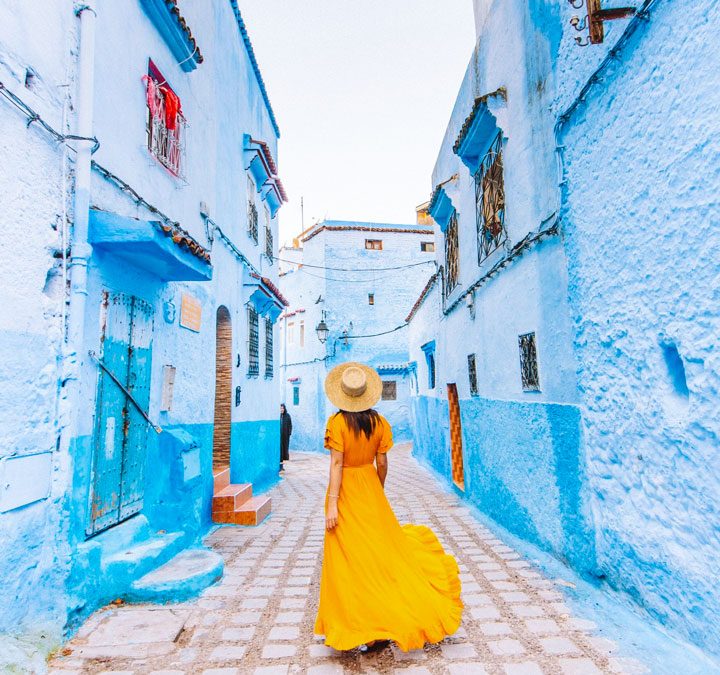 Planning a trip to Morocco and looking for reliable travel tips? This page will help you plan such an experience-filled trip. Morocco is just a few hours by plane from Europ, yet it feels like you've entered a completely different world. Morocco is the perfect place for a road trip: adventure, oriental charm, and a pleasantly warm climate. 
In this article, we have compiled our knowledge from experience and advice for traveling in Morocco so you can prepare for your trip in the best

possible way

. When is the best time to travel? How safe is it to travel to Morocco, and how do you get from one city to another?

You'll

find the answers to these questions and more in this special Morocco guide. Enjoy reading.

 
Tours from Fes
Tours and trips that starts from fes to the desert and other several cities.
Is there any special time to travel to Morocco?
Because of the diverse landscapes, Mediterranean See and the Atlantic Ocean, Morocco has no specific time to visit. Actually, travelling to Morocco depends on you: when is your vacation, what type of trips you want, what you want to do in Morocco and more. Only through these details you can identify the proper time to travel to Morocco.  
For example; if you like desert trips and desert adventures, you can visit Morocco in the winter to enjoy the hot sun in the day and a cold climate at night. Also, you can experience lot of fun activities:  
In desert, you can experience camel trekking, sandboarding, sand-bath, 4X4, buggy, quad bike excursion etc.  
While in the Atlas Mountains, you can visit Berber villages which wearing snow. Also, join the snowboarding on the Mountains (Oukaimeden (oukaïmeden)). 
Visiting Morocco in the summer 
Morocco and because of its strategic location which lies along the Atlantic ocean and Mediterranean see, has a charmed beaches that attracting the internal and external tourists. The most known Moroccan beaches and the beautiful ones are: Las Cuevas Beach 'Asilah', Martil Beach, Dragon beach 'Dakhla Peninsula', Sidi Kaouki (for surfing lovers), Sidia beach, Agadir beach, Essaouira beach, and Oualidia Lagoon. Moroccan beaches known with its tranquility, cleaning, golden small sands and panoramic sunset also several music festivals and shows are organized by lot of famous artists. There is no difference between Maldives' beaches and Morocco beaches, the latter are more marvelous! 
How safe Morocco is

?
The essential question you should ask before each new travel is how safe is the targeted destination for your safety first as well as a comfortable travel. However, Morocco is one of the safe countries in North Africa, receiving millions of tourists each year. Moroccan safety goes back to the security and political stability. Also, its generous people who known with their simplicity and hospitality. Morocco is a multilingual country, in addition to its diverse and rich culture. So, it's common to see Mosques wherever you go and Synagogues as well. The kingdom was built on the notion of religious tolerance. However, as all countries in the whole world in Morocco also there are thieves which requires caution when you walk over the narrow streets of cities. Generally, Morocco is a safe country that you can visit with comfort.    
Discover Sahara Desert
You can discover the desert of merzouga with our tours that start from a several cities
Transport of Morocco: how to move from one city to another or within the same city?
The kingdom has a great transport that includes: airports, buses, Trains, high speed-train (TGV) and Taxi. Here in Morocco and even if there are planes that can take you from one city to another, however, that's not common. Unusually, Moroccan people choose the big-bus to travel from one city to another, Train, or grand-taxi. Within the city, Moroccan using the city-bus or city-taxi (or as it's known here as 'Petit Taxi') to move from A to B in the same city. 
Tour trips actually being more comfort with your personal car, renting car or travel with a private travel agency such as "PRIMEMORROCOTOURS". Because of three main reasons: first is to save time, so you will not need to wait for the bus or train's time to travel or ask people to redirecting you to the target station. Second one, is saving money, thus, using public transport might be quite expensive. Third, when you book with a private travel agency, you will find your driver waiting for you at the airport to transfer you to your hotel and be with you along your stay in Morocco. So that, raises little bit the trust of your safety which will make you more comfort and confident. 
In brief:
Morocco is worth to be discovered with its rich culture, hospitality of the Moroccan people and diverse breathtaking landscapes. You will never regret of being in Morocco nor getting bored. Since your arrival to Morocco, you will enjoy your tour trip by visiting its most attractions, oldest cities and the UNESCO sites which is still maintained and well-preserved. Join one of Morocco tours and live a unique experience that will never forget. By the end of your reading, we would like to hear from you in the comment bellow what you know about Morocco.