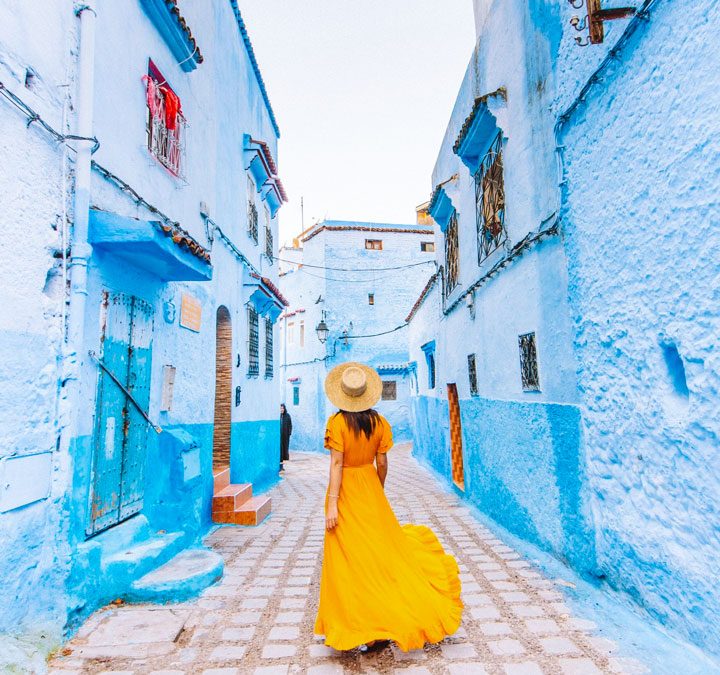 Get your Guide to Plan your trip to Morocco
Planning a trip to Morocco and looking for reliable travel tips? This page will help you plan such an experience-filled trip. Morocco is just a few hours by plane from Europe, yet it feels like you've entered a completely different world. Morocco is the perfect place for a road trip: adventure, oriental charm, and a pleasantly warm climate. 
In this article, we have compiled our knowledge from experience and advice for traveling in Morocco so you can prepare for your trip in the best possible way. When is the best time to travel? How safe is it to travel to Morocco, and how do you get from one city to another? You'll find the answers to these questions and more in this special Morocco guide. Enjoy reading. 
Is there any special time to travel to Morocco?
Because of the diverse landscapes, the Mediterranean Sea, and the Atlantic Ocean, Morocco has no specific time to visit. Actually, traveling to Morocco depends on you: when is your vacation, what type of trips you want, what you want to do in Morocco, and more. Only through these details, you can identify the proper time to travel to Morocco.  
For example; if you like desert trips and desert adventures, you can visit Morocco in the winter to enjoy the hot sun during the day and the cold climate at night. Also, you can experience a lot of fun activities:  
In the desert, you can experience camel trekking, sandboarding, sand-bath, 4X4, buggy, quad bike excursion, etc.  
While in the Atlas Mountains, you can visit Berber villages which wear snow in winter. Also, join the snowboarding in the Mountains (Oukaimeden (oukaïmeden)). 
Visiting Morocco in the summer 
Morocco and because of its strategic location which lies along the Atlantic Ocean and Mediterranean sea, has a charmed beach that attracts internal and external tourists. The most known Moroccan beaches and the beautiful ones are Las Cuevas Beach 'Asilah', Martil Beach, Dragon beach 'Dakhla Peninsula', Sidi Kaouki (for surfing lovers), Sidia beach, Agadir beach, Essaouira beach, and Oualidia Lagoon. Moroccan beaches are known for their tranquility, cleaning, golden small sands, and panoramic sunset also several music festivals and shows are organized by a lot of famous artists. There is no difference between Maldives' beaches and Morocco's beaches, the latter are more marvelous! 
How safe Morocco is

?
The essential question you should ask before each new travel is how safe is the targeted destination for your safety first as well as a comfortable journey. However, Morocco is one of the safe countries in North Africa, receiving millions of tourists each year. Moroccan safety goes back to security and political stability. Also, it's generous people who are known for their simplicity and hospitality. Morocco is a multilingual country, in addition to its diverse and rich culture. So, it's common to see Mosques wherever you go and Synagogues as well. The kingdom was built on the notion of religious tolerance. However, like all countries in the whole world in Morocco also there are thieves who require caution when you walk around the narrow streets of big cities. Generally, Morocco is a safe country that you can visit with comfort.    
Discover Sahara Desert
You can discover the desert of merzouga with our tours that start from a several cities
Transport of Morocco: how to move from one city to another or within the same city?
The kingdom has great transport that includes: airports, buses, Trains, high-speed trains (TGV), and taxis. Here in Morocco and even if there are planes that can take you from one city to another, however, that's not common. Unusually, Moroccan people choose the big bus to travel from one city to another, Train, or grand taxi. Within the city, Moroccans use the city bus or city taxi (or as it's known here as 'Petit Taxi') to move from A to B in the same city. 
Tour trips actually being more comfortable with your personal car, renting a car, or traveling with a private travel agency such as "PRIMEMORROCOTOURS". Because of three main reasons: first is to save time, so you will not need to wait for the bus or train's time to travel or ask people to redirect you to the target station. The second one is saving money, thus, using public transport might be quite expensive. Third, when you book with a private travel agency, you will find your driver waiting for you at the airport to transfer you to your hotel and be with you during your stay in Morocco. So that raises a little bit the trust in your safety which will make you more comfortable and confident.  
Where
to
start
your
tour
in
Morocco
?
Tours in Morocco have no special depart site, you can start a trip from Fes, Marrakech, Tangier, Casablanca, Rabat, Ouarzazate, or any other city in Morocco. However, it's better to start your tour of Morocco from a crossword city that is close to the most breathtaking landscapes and popular tourism destinations in Morocco; such as the city of Marrakech. This vibrant city is known for its souks, colorful markets, and traditional architecture. Visit the famous Jemaa el Fna square, explore the winding alleyways of the Medina, or take a camel ride in the Sahara. Other popular cities and sights to explore from Marrakech include Ait Ben Haddou Kasbah, Ourika Valley, Merzouga, Zagora, Fez, Tangier, Essaouira, and Casablanca.
how to know the budget you need for your Moroccan trip?
The cost of a trip to Morocco can vary greatly depending on the type of trip you're planning, the length of your stay, and your chosen activities. A budget-friendly trip can be possible, even with flights and accommodation included. To determine the budget you need for your Moroccan trip, consider the following:
1. Length of your stay: How long do you plan to stay in Morocco?
If you are planning a short weekend getaway, you will likely need less than someone who is staying for a week or longer.
2. Accommodation: Where do you plan to stay during your trip?
If you're looking to save money, there are plenty of inexpensive hostels and guesthouses in Morocco, as well as Airbnb options.
3. Transportation: How will you get around Morocco?
If you plan to take public transportation, you can save money by buying tickets in advance.
4. Activities: What activities do you plan to do?
Many of Morocco's attractions are free or very affordable, but others, like camel rides and cooking classes, can be more expensive.
5. Food: What will you eat?
Eating at local restaurants and street food stalls can be a great way to save money, but if you prefer to eat at more upscale restaurants, your food costs will be higher.
Once you've considered all of these factors, you should have an idea of the budget you need for your Moroccan trip.
Plan your Morocco desert tours wisely
Planning a desert tour in Morocco should include the departing time, destination, transport, road, stops, accommodations, desert activities, budget, and return date. For instance, planning a Morocco desert tour from Marrakech will go as follows:
Depart time: depends on when you arrive in Morocco.
Depart City: Begin your trip from Marrakech, a vibrant city full of culture and the perfect place to start your desert adventure. Visit some of the city's most famous landmarks such as the Koutoubia Mosque, the Saadian Tombs, and the souks in the Medina.
Destination: Head to the Erg Chebbi sand dunes. Erg Chebbi is the most famous of all the Moroccan desert dunes and is a great place to spend the night. Enjoy a camel ride into the desert, explore the sand dunes, take photos, and watch the stunning sunset.
Stops: Visit Ouarzazate. This is one of the largest towns in the region and is the perfect place to explore the culture of the area. Visit the Kasbah of Taourirt, the Skoura oasis, and the Todra Gorge for spectacular views.
Desert activities: Explore the desert of Merzouga. It is a small village near Erg Chebbi and is the gateway to the Sahara Desert. Spend the night in a traditional Berber tent, take a 4×4 tour of the sand dunes, and visit the nearby lake.
End of the desert tour: your trip will end in Marrakech or Fes. Fes is the oldest of Morocco's imperial cities and is home to Fes el Bali, the largest Medina in the world. Explore the city's streets, visit the souks, and take a cooking class to learn about Moroccan cuisine.
Return time: depends on the deadline of your plane ticket/ deadline vacation.
Budget of the tour: a 3-day desert tour from Marrakech for example may cost you 125£, less, or more per person if you travel with a travel agency. Travel agencies include accommodations, take-in, and drop-off in the total price, but if you travel alone you may spend more money.
Trip planning Website
Prime Morocco Tour is a website that allows tourists to plan their trips to Morocco. It provides an easy–to–use interface for users to search for suit tours, destinations, sightseeing, and other travel services. Travelers can also customize and manage their itineraries, as well as share their plans with friends and family. Prime Morocco also offers discounts and loyalty programs to help users save money on their travel expenses. Additionally, the website provides travel tips and advice to help tourists make the most of their trips wisely.
In brief:
Morocco is worth being discovered of its rich culture, the hospitality of the Moroccan people, and diverse breathtaking landscapes. You will never regret being in Morocco or getting bored. Since your arrival in Morocco, you will enjoy your tour trip by visiting its most attractions, oldest cities, and UNESCO sites which are still maintained and well-preserved. Join one of Morocco's desert tours and live a unique experience that will never forget. By the end of your reading, we would like to hear from you in the comment below when you will plan your tour to Morocco.
Related itineraries planned tours of Morocco: