Moroccans are almost trying hard to serve visitors as well. So they inspire them by riding camel as one the wonderful things. Anywhere you go in Morocco, you will find camel. But the true place to find camel in is Sahara desert. Then if you want to live better adventure with camel, you should travel to desert as his environment. At this beautiful Sahara, you have a chance and serious opportunity to see panoramic views; as Oasis of palm trees, Nomads, climbing high Dunes by camel for seeing a wonderful reflection of sunrise and sunset, getting into Sahara for spending an ambiance night with traditional music, safety place, seeing amazing stars at night. By camel you will take all the necessary equipment and required materials. Briefly, camel takes as a symbol of passion, so he can't drink water for long of 40 days as the maximum. And he was also the Caravan crossed the Desert from city to other.
Riding Camel and one night in the desert
The most beautiful destination, I advise you to visit is the Sahara, and especially spend a night in a camp. The adventure of desert trip always starts at afternoon. We will organize the camel ride for crossing Dunes of sand and traveling into a camp as our destination to spend an unforgettable night.
Of course, camel will be our vehicle and takes foods, blankets and everything, we will need. In the road to the camp, we will take advantages of this chance by taking beloved pictures.
When we achieve the camp, we will climb the Dunes to see panoramic views of sunset and sunrise in morning. Moreover, we will live funny night with music and dinner. Finally, in morning after taking look at sunrise, we will come back to hotel for having delicious breakfast.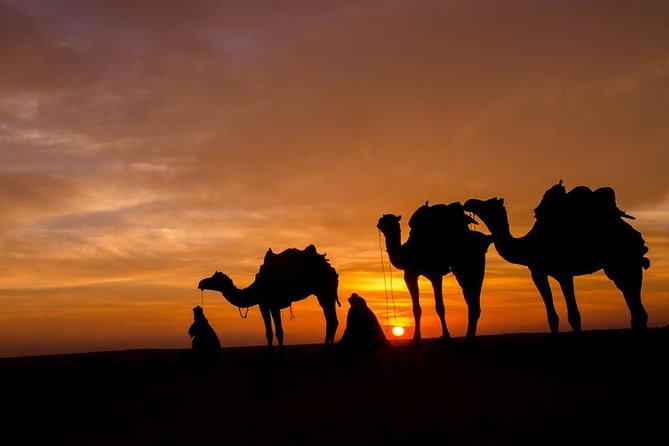 Camel treks with two nights in the Sahara Desert
At the desert, you will go to spend a wonderful moments in your life because it is silence and it has magic environment. On this occasion, breathe freely and escape from your daily and routine and speak to your guide to explain you the truth of each symbol of this new culture you are with.
The trip of desert always begins at the afternoon. ride camel from hotel to cross Dunes of sand into the camp in middle of Sahara. It will take around an hour and half.
When we arrive at the camp, we will climb the Dunes to take a look at the fabulous sight of sunset, and take pictures to memorize this great moment. At this equipped camp, we will have an ambiance times with Berber singers. In fact, it is a big opportunity to know more about Berber culture. We will also take this advantage to show you the wonderful views of stars. And ultimately, we will have our dinner and go to sleep.
At the next early morning, we will climb the Dunes again to see sunrise after we are going to have a traditional breakfast. Therewith, we will travel by camel to visit Nomad people, and of course have lunch with them. After that we will come back to camp for taking a short break before going to have fun time at the Dunes and also visiting Oasis. At the afternoon, we will come back to spend another wonderful night in the camp. When it is morning, we will travel back to Merzouga to reserved hotel to have breakfast.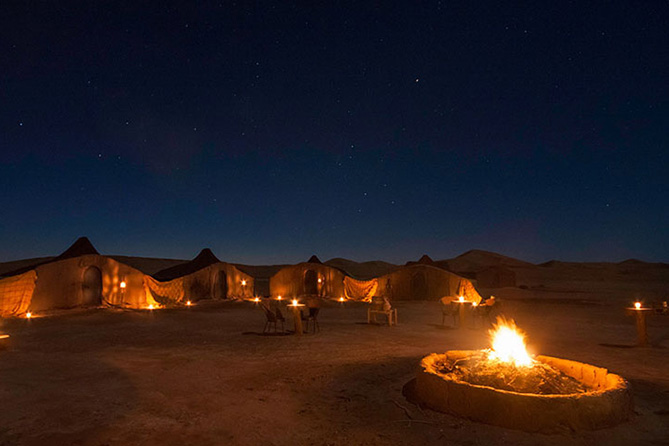 At this time your good decision leads you to live an opportunity that will be change your mind positively because after your daily routine and stress of work with also problems of life, you are going to escape from all and spend three nights with new people and different culture.
The adventure will take you into Sahara desert at the afternoon of first day. Then you will ride camel after we pack our necessary baggage on camels and going to spend a night in equipped camp. Seriously, we know that you have three nights, so after a day of traveling, we will enjoy a little time in the camp and taking our dinner, and going to sleep. At the early morning, we will wake up and climbing the Dunes to see a panoramic view of sunrise, then come back to take our delicious and first breakfast in Desert. And be ready to travel by camel to our second destination which is Tamarisk, it will be take two hours of time. At this amazing spot, we are going to have lunch and have fun time with Nomad family where you will spend second night.
At the next morning after our breakfast with Nomads, we will trek to one of the closer Oasis in the middle of desert. At the road, we will stop to take pictures and living our trip with lunch too. And finally, it is your last night in desert. But this time we will spend it with Berber nomad family at the Oasis. During the dinner, we will have fun with drum music under heaven full of stars. Ultimately, at the morning we will travel to Merzouga or where we reserved hotel, but before we will have a traditional and delicious breakfast.