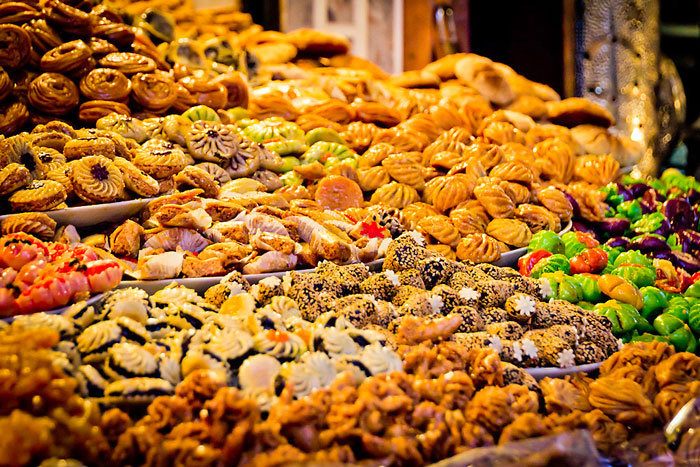 The famous delicious Moroccan sweets that you must taste 
The most popular traditional Moroccan dessert is Mulhalbia. It is a kind of orange blossom crème brûlée that represents a rich cultural heritage created over the course of history by the fusion of Mediterranean, Arab and Berber cultures.  
This dessert is one of the few exceptions among typical Moroccan desserts that do not contain fresh or dried fruit with honey, ground almonds or rose water. Mulhalbia is not only one of the most famous desserts in the West, but it often steals the show from the delicious Moroccan pastries that are so generous and a symbol of this local cuisine.   
The most famous Moroccan pastries are, of course, the gazelle horns – "kaab el ghzal" – seffa, as well as baklava, which is popular throughout the Middle East and even in the Balkans. Not to be missed on your next trip to this fragrant country, here's a list of traditional Moroccan sweets you can enjoy without going hungry: 
The 12 best traditional Moroccan pastries you must try

 
Moroccan cuisine has been declared an Intangible Cultural Heritage by UNESCO. In addition to the exquisite gastronomy, and sweet and savory dishes that we know in these North African countries, if you like spice mixes, honey, cinnamon, orange blossoms, walnuts, and almonds or halva, you should definitely discover the divine Moroccan pastries that you can enjoy at the end of a meal.  
Are you ready to send your taste buds on a journey? 
Tours from Fes
Tours and trips that starts from fes to the desert and other several cities.
1.

Mulhalbia

 
How can we begin this ranking without mentioning the inevitable Moulhalbia referred to in the beginning of this article? This typical Moroccan dessert, also known in Lebanon as "moulhalbia," is a pudding with a subtle orange blossom flavor, eaten either plain or sprinkled with almonds and cinnamon, or with syrup and caramelized pistachios. 
The advantage of Mulhalbia is that it can be eaten fresh, with delicately sweet notes. The famous "Moroccan crème brûlée" is a lighter end to a meal, without weighing it down with the honey or Moroccan sweets we all love, but which are not very light!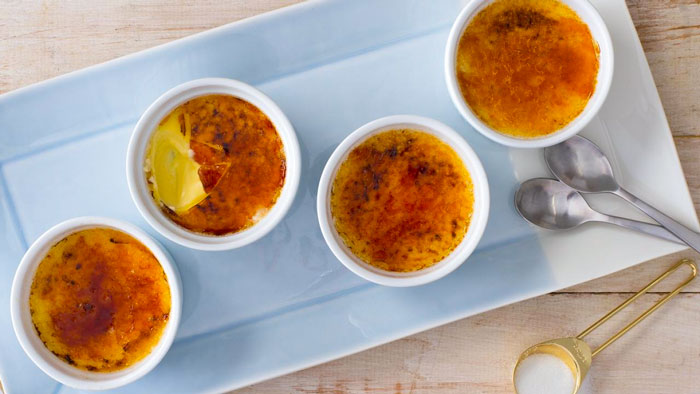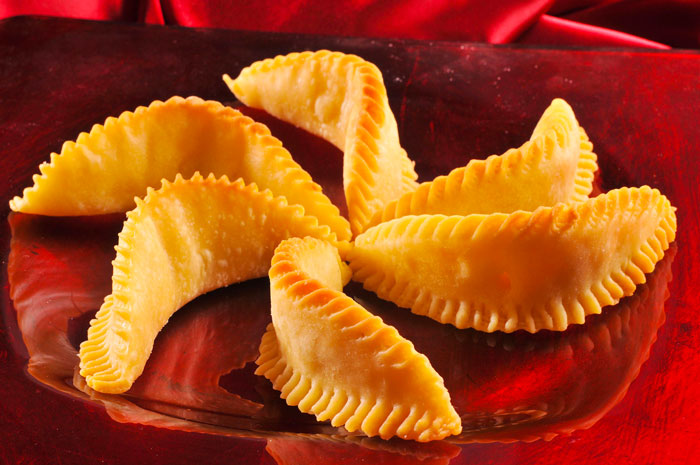 2. Gazelle horn

 
Among the most typical sweets of Morocco are the gazelle horns, called "Kaab el Ghazal" in the region, which top the list of traditional North African sweets. The gazelle horn is Morocco's "etiquette" and a certain expression of generosity. Its distinctive shape honors the gazelle, an animal associated in the Arab world with beauty and elegance. This dessert is served on all family and religious holidays, such as Eid al-Fitr and the Prophet's birthday.   
It is a kind of small crescent made of crusty dough with a fragrant filling of almond paste seasoned with orange blossom water and cinnamon. Then bake it in the oven until golden brown. Finally, dip it in the orange blossom water and the dessert is ready! It can then be sprinkled with powdered sugar (optional). In this case, the dough is called Kaab el Ghazal M'fenned. The price of Kaab Ghazal in Morocco is relatively high because it contains high quality pure almonds, which are sprinkled on guests. 
3.

Chebakia

 
Moroccan chebakia is one of the oldest desserts in Moroccan cuisine. Also called "m'harka," it is a Moroccan pastry that is used to gently break the fast during Ramadan. This little oriental sweet, consisting of fried almond cookies that are then smeared with honey and sesame seeds, has a particularly sweet and energetic side that immediately raises blood sugar levels. 
This traditional Moroccan dessert has a spicier flavor than others. A pinch of saffron, cinnamon and ground anise (cumin), which is said to have digestive properties, is added to the wheat flour dough. After rolling out and pressing thoroughly, the dough is deep-fried and smeared with honey and orange blossom water, then sprinkled with sesame seeds. Because of its round shape, it is sometimes compared to a doughnut or a "Moroccan cookie." A delight for lovers of savory desserts!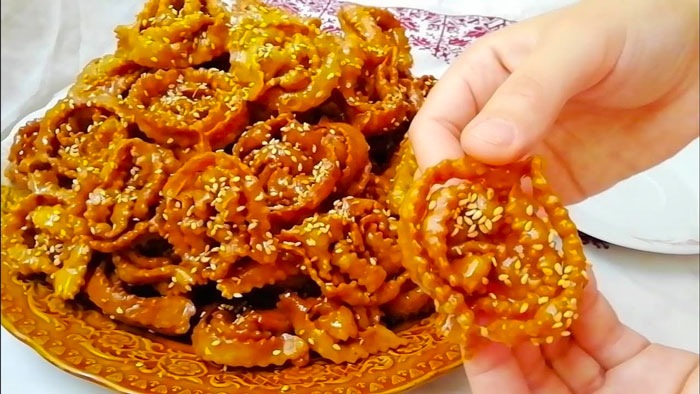 Discover Sahara Desert
You can discover the desert of merzouga with our tours that start from a several cities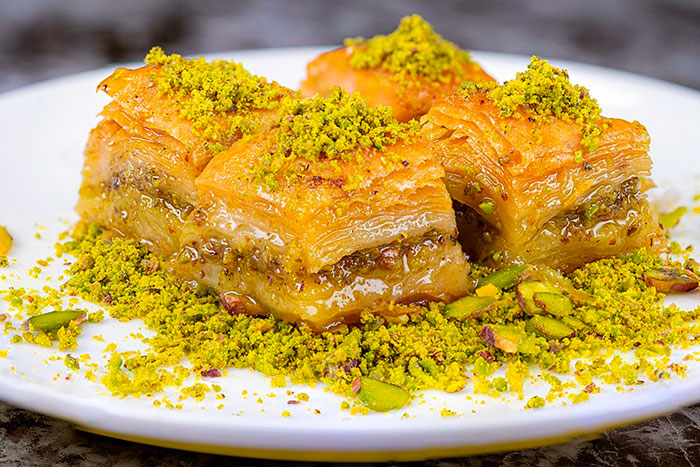 4. Baklava

 
Baklava is one of the best desserts in the Middle East. It is popular among all Arab peoples, especially in the Ottoman Empire and Persia, where it originated. This savory dessert of phyllo dough, butter, tahini, cinnamon and nuts is dipped in a generous bath of honey, which gives it a crisp, satisfying texture.  
This Moroccan pastry, known in the Maghreb version as baklava or baklawa is made with a nut or pistachio filling to which cocoa is added. This delicious dessert, served in small lozenge-shaped portions, is one of sixteen non-European foods and drinks on the list of the ten most famous foods in the world. 
5.

Seffa

 
This traditional Moroccan dessert is one of the most unusual, but also one of the most delicious. It is a salty dish of semolina or angel hair (cadaif), similar to couscous and cooked in a sweet version with butter, cinnamon, and almonds. Less commonly, it can also be made with rice or rice noodles. There are also other variations. For example, "Seffa hlouwa bezbib" is an excellent couscous sweetened with sultanas and cooked exclusively by hand. 
In the past, it was considered the breakfast of the poor, as its energy value allowed workers to get through a long day at work. Today, it is often made for special occasions such as family reunions, births and even weddings, and kids love it!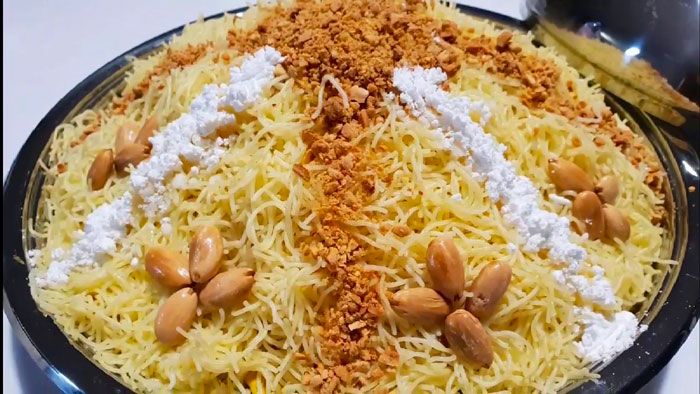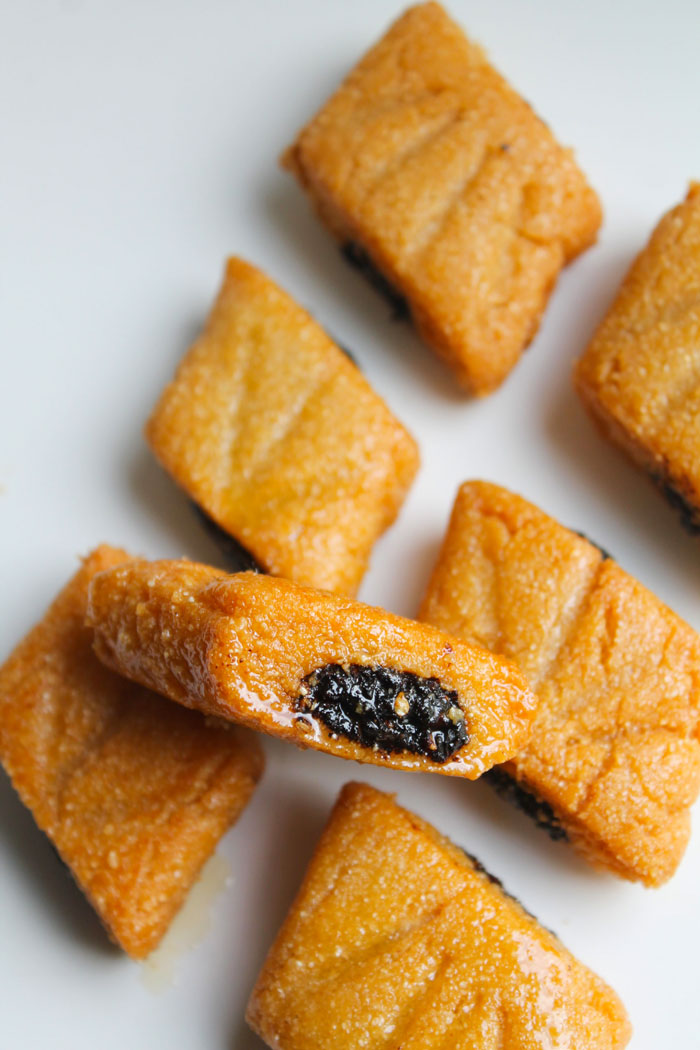 6.

Macroute

 
Macroute, also called "macrude," is a North African dessert that actually comes from the Algerian border. But thanks to the delicate flavor of candied dates and the flattened diamond shape that allows it to be enjoyed in a single bite, it quickly won the hearts of Moroccans. 
This oriental pie became popular in Morocco in the ninth century in the city of Fez, Morocco, thanks to the Cayruans, who knew how to roll out wheat semolina with a filling of dates, figs and almonds and then bake it and fill it with a mixture of honey and orange blossoms. A delight for young and old! 
Discover The Valleys of morocco
With Prime morocco tours,You can discover the Valleys and the panoramic views of gorges
7.

Briuat

 
Like seffa, a traditional Moroccan sweet based on a salty recipe, briouats belong to the marshmallow family. Filled with tuna, chicken or lamb, they are usually consumed as a snack, but Middle Easterners also like them filled with walnuts, almonds, cinnamon and smeared with honey.  
This typical Moroccan pastry is triangular in shape thanks to a brick-shaped dough fold, which is given a crunchy but melting texture by the butter and orange blossom water in the final composition. For holidays and celebrations (births, weddings, Eid, etc.) the Briuat can also take a cylindrical shape and be called a "honey cigar" for variety from other triangular oriental sweets.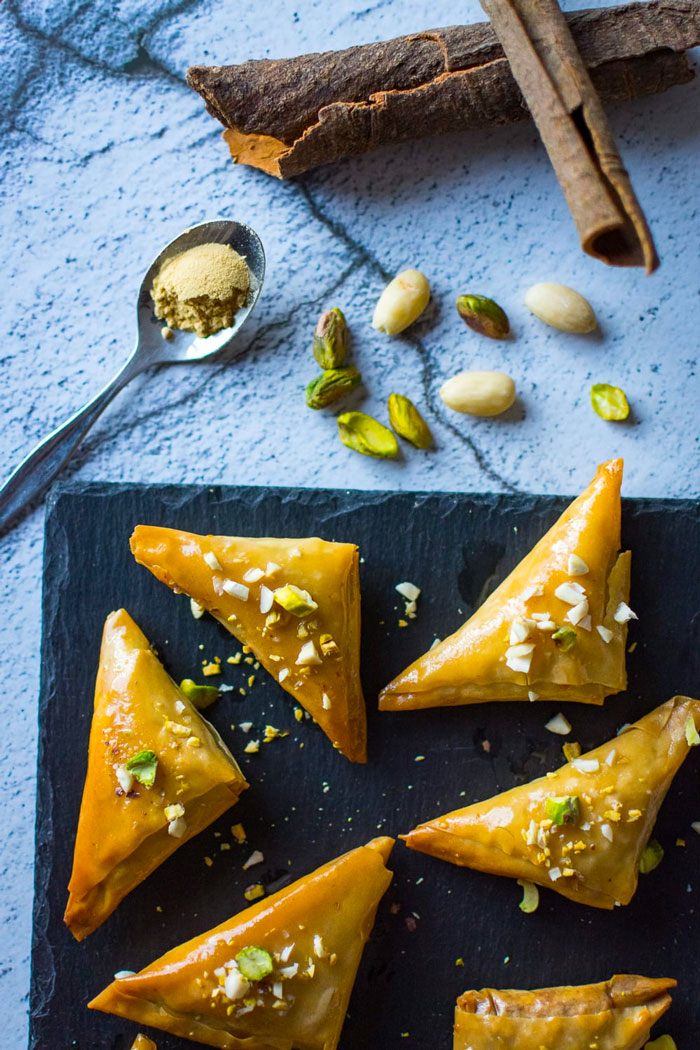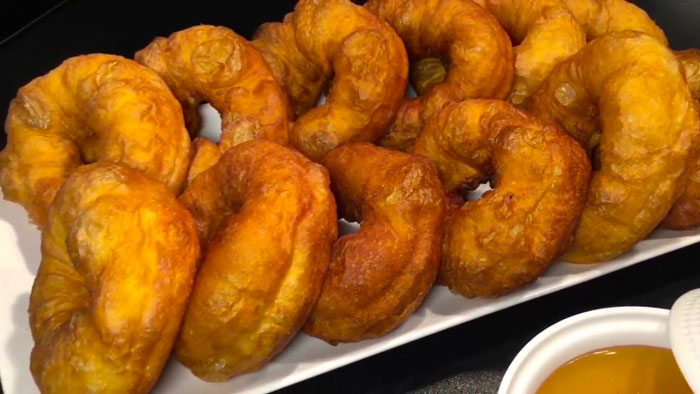 8.

Sphenje

 
Sfenj, also spelled "sfendj," is an oriental doughnut that can be compared to churros. This traditional Moroccan dessert can easily be bought and eaten in any city at market stalls and bazaars, which abound in the streets. Unlike the Algerian or Tunisian version, which uses a dough of semolina and flour, in Morocco it is made only with wheat flour to make it lighter. 
Depending on the region, Moroccan "churro" is also called "ftaire" or "ftaer" and is consumed throughout the day. Locals also like to eat these cookies as a mid-morning or mid-afternoon snack, washing them down with tea if they are dipped in icing sugar, or a spicy drink if they are spiced.  
9.

Fekka

 
Fekka is another Moroccan sweet that is served all year round at all oriental festivals. This little dry cake is very popular in Morocco because its ingredients are inexpensive and all walks of life can make it with love.  
It requires only eggs, sugar, flour and yeast. In the past, some families added fruits with honey and milk as additives to achieve a more pronounced flavor, while richer families added almonds, sultanas, dried fruit, ginger and anise.  
Fekka," which may be related to the "almond croquettes" known in southwestern France, are often served with mint tea or milk for children. This is one of the sweets called "Duaz Atai".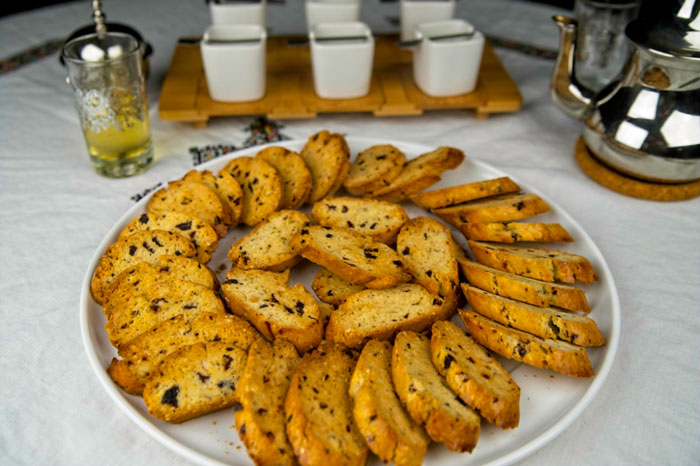 10.

Knafeh

 
Knafeh is a traditional Moroccan dessert that is especially delicious because of its dual texture – crunchy on the outside and soft on the inside. This small triangle-shaped oriental dessert is characterized by its iconic orange color and threads of cheese.    
It's made with Acavi cheese, kadafs (thin Turkish noodles) and melted butter, drizzled with rose water-flavored syrup. This syrup-sweetened Maghrebi dessert is one of the most irresistible because of the crunchy layer of pistachios, almonds and chopped walnuts sprinkled on top. Arabs like to make this pie on Ramadan nights to break the fast and gain strength to continue the holy month.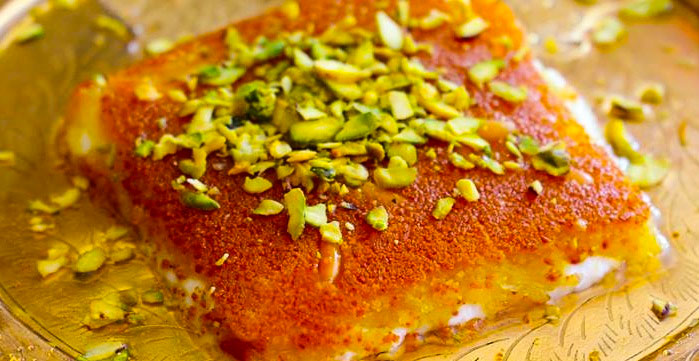 11. Mushrooms "

Ghoriba

"

 
The traditional Moroccan mushroom is also called "ghoriba. It is a popular paste made of almonds and coconut, flavored with orange blossom water and lemon zest. This typical Maghreb sweet may vary from region to region, but its original shape often resembles Italian macaroons or our traditional French macaroons.  
The Moroccan mushroom with almond slides differs in that it is decorated with almond slides in addition to its citrus flavor. It is a dry, soft dough that is very easy and quick to make. So, it can be dipped in mint tea on the breakfast table for Eid.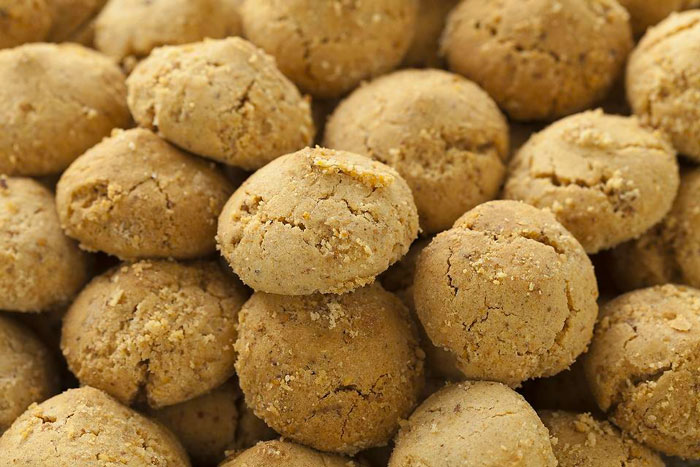 12. Sellew
Sellew or Sellou is one of the most typical desserts in Morocco. It is one of the most important dishes during Ramadan, as it is rich in nutrients, satisfies hunger and keeps the day going. On holidays, it is also prepared in small portions and accompanied by Moroccan tea. 
Sfouf, garnished with almonds or pine nuts, has a characteristic brown color and is made from toasted wheat flour and honey mixed with melted butter, sesame paste (tahini) and ground almonds. The dough is kneaded by hand so that the flour absorbs all the sweet liquids that give it its flavor and charming texture. At the table, this traditional Moroccan dessert is generously sprinkled with almonds, coconut and sugar. This is a dessert that is a must-try.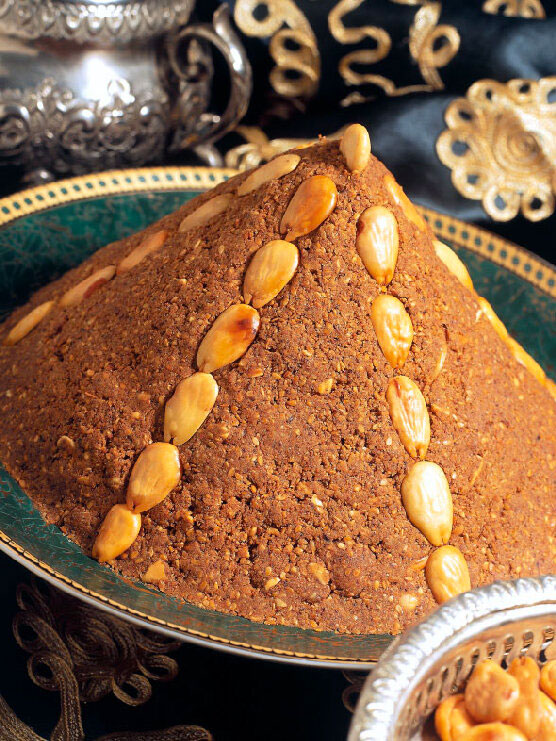 Conclusion:
All these delicious Moroccan Sweets are desirable! But the only way you have to taste the traditional Moroccan flavor is by traveling there. So, why don't you plan a visit to Morocco with us and let yourself fall in love with the Moroccan Traditional cuisine?