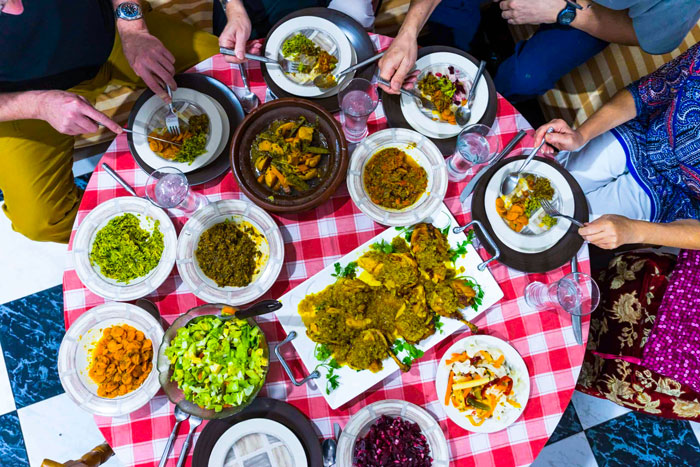 One of the essential things that a traveler concerns with before tripping or traveling to different country is food. However, there are some countries that are famous with its recipes and delicious food; for instance, Italy. Also, Moroccan cuisine considered one of the top world cuisines. Tagine, Coscous, Tangia, Pastila these are some dishes that are specifying Morocco and originally made for first time in Morocco.     
Food in Morocco
Moroccan cuisine is one of the richest and most varied in the world. There are several delicious dishes that will awaken our taste buds. Moroccan cuisine is not limited to couscous and tagine, which are some of the most popular dishes in the country, but there are other specialties that are a must try. 
Breads, soups, fish, meat, etc. – other typical Moroccan dishes. The confectionery sector is also highly developed in the country. We should not forget about the different kinds of drinks for which Morocco is famous. Tea has become a real institution, a ceremony not to be missed. 
Discover Sahara Desert
You can discover the desert of merzouga with our tours that start from a several cities
Some dishes and drinks you must try in Morocco
When people talk about Moroccan cuisine, they never forget to mention couscous and tagine. Couscous is a famous semolina dish that is very famous and popular in Morocco. Tagine with fish or meat is a typical dish that is cooked in clay pots. The dish varies from region to region. In the center of the country, tajine is usually made with lamb. However, in coastal regions it is prepared with anchovies, sardines, or shrimp. 
If you visit the agricultural areas in the interior and the Atlas Mountains, you cannot miss Meshui. This is the famous roast lamb, typical of some Moroccan regions. 
Everywhere in Morocco you can try harira with tomatoes and bisara with beans. These are typical soups served in most restaurants. The famous harira is especially popular during Ramadan as it is eaten to break the fast. 
Various kinds of small quatrains are also found throughout the country: The most famous are briuats. These are small pancakes made of marshmallow leaves and filled with minced meat, brains, fish, sausage, and more. 
Peppermint tea is the emblem of Morocco. You can taste it in every restaurant and cafe in every Moroccan city. Wherever you stay, in a hotel or in a private home, the hosts will always offer you tea. It is even part of the country's tradition. 
Besides mint tea, are there other alcoholic or non-alcoholic beverages sold in restaurants, supermarkets and specialty stores? Soft drinks and fruit juices are also popular in the country, even in the desert. 
When you buy an alcoholic drink in a store or supermarket, the bottle is always wrapped in paper and placed in a black plastic bag. During religious holidays, the liquor departments of supermarkets are reserved for foreigners with passports. Avoid buying alcohol for a young Moroccan, as it can lead to legal action. 
Discover The Imperial cities
With Prime morocco tours,You can discover the imperial cities and live some other experiences!
Where to eat and drink in Morocco 
Tourists are spoiled for choice when it comes to typical Moroccan food and drink. There are several places in Moroccan cities where you can order the dishes you want to try during your stay. 
– Fast Food: These restaurants, known for good value for money and fast service, are very popular among Moroccans, but also among foreigners. They all offer typical dishes and drinks as well as specialties from other countries to attract more customers. These places are very popular with travelers strolling through the city. You can freshen up a bit before continuing your visit. 
For example, in the evening, the Djema el-Fnaa square in Marrakech is full of stalls selling typical Moroccan food and drinks. This esplanade is one of the main tourist attractions of the red city.  
– Popular Restaurants: Very popular among Moroccans, these restaurants are ideal for enjoying the local atmosphere and interacting with locals. Fried fish or fish cocktails are most common, especially in coastal regions. 
In the center of the country, popular restaurants often offer meat skewers or lamb tajin. Harira and bisara soups are always available. For dessert, fruit juices, dates, or mint tea are available. 
Upscale restaurants: these establishments cater mainly to national and foreign tourists. The price is higher, but the facilities are really well decorated and furnished, and the service is very satisfactory. They are usually located in luxury hotels or in tourist areas. The upscale restaurants offer all kinds of dishes: Moroccan or Western. Asian restaurants can also be found in the main tourist resorts of Morocco. Most of these luxury establishments have a lounge bar where you can refresh and relax with your favorite drinks. 
– Cafes: These are small establishments where you can have coffee or tea along with savory snacks such as sandwiches, brioches, pies….. Moroccans love cafes, and you can often find them on every street corner. You can also stop by there before you start your discovery day.